WELCOME TO THE AI DRIVEN DRUG DISCOVERY SUMMIT
In recent times, a number of prominent collaborations between pharmaceutical companies and AI firms have emerged, signalling the growing importance of validating and enhancing these methodologies. As technology continues to advance, the AI Driven Drug Discovery Summit serves as a platform to showcase innovative approaches for effectively incorporating cutting-edge AI technologies into the ever-expanding realm of datasets.
In this rapidly evolving landscape, it has become imperative to determine where and how AI can provide the most value. By bringing together leaders from the pharmaceutical, biotechnology, AI technology, and academic sectors, this forum offers an invaluable opportunity to develop a well-defined strategic vision with ambitious goals for harnessing AI's potential to optimize the process of drug discovery.
Industry Leading Speakers
Dedicated Networking Hours
WHY SHOULD YOU ATTEND?
Engage with leading pharma and biotech companies as they discuss the current state of AI-assisted drug discovery and explain how they are adjusting existing processes to drive decisions on AI insights
Discuss how AI can be leveraged to support multi-omic data integration
Understand how recent advances in AI/ML are improving the accuracy of therapeutic target identification
Discover how AI is accelerating drug safety assessments and how researchers are augmenting toxicity predictions through in silico ADMET models
Connect with industry leaders using AI/ML to aid drug repositioning efforts for rare disease and learn from SARS-CoV-2 drug repurposing efforts
Upskill decision makers and users on AI methodologies and limitations to avoid black box mistrust
Identify new AI-native partners and learn to better manage existing partnerships to further integrate AI processes across functions
VIEW THE EXCLUSIVE 2023 AGENDA
The agenda for the AI Driven Drug Discovery Summit 2023 has now been released.
As the first AI-designed candidates begin to reach human trials, those involved in drug discovery are right to be preparing for a future in which AI is an integral part of the process. Step in to interactive discussion and engaging presentations with leaders from pharma, biotech, AI-tech companies and academia and optimize your drug discovery.
---
DOWNLOAD THE AGENDA
PAST ATTENDEES INCLUDE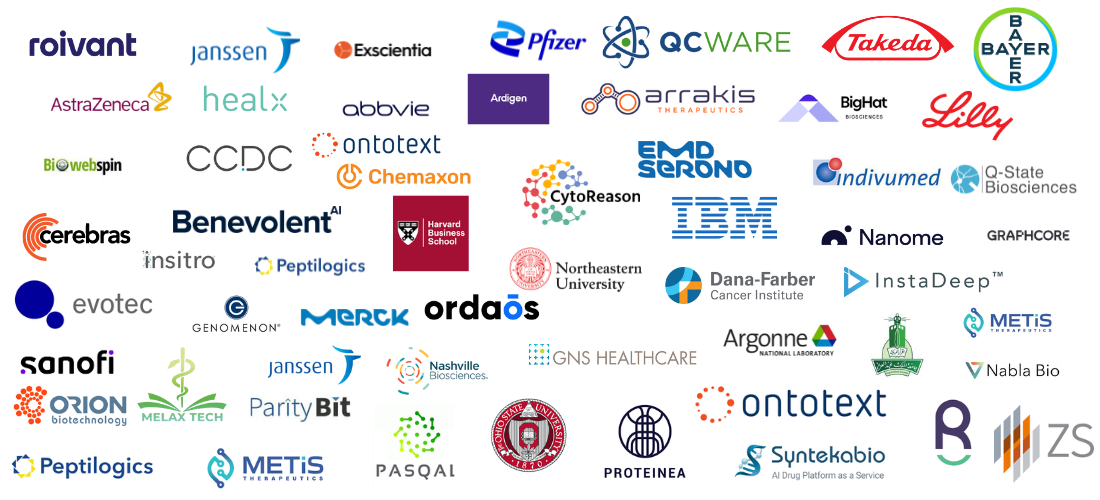 PARTNER WITH US
AI Driven Drug Discovery is your global, multi-channel partner to reach, engage and interact with the most influential and important stakeholders in the world of AI Drug Development. With a solution to hit every objective, our high-level programmes, tailored introductions, bespoke networking and content-driven marketing offer multiple ways to engage your target market both at the event and in the run up.
Why partner with us?
Be recognized as an industry leader
Get the eyes of hundreds of decision makers on your brand
Create space for the most important conversations, and the ones you never knew were out there
Network with the AI Drug Development industry elite
Amplify your biggest announcements, research and expertise
Want to know more? We're here to help you find out all about partnership options including:
Thought Leadership: Presentations, Panel Discussions, Roundtables, Workshops
Networking: 1-1 Meetings, Breakfast Briefings, Networking Dinners, Drinks Party
Brand Awareness: Track Sponsorship, Keynote Presentation, Networking Booth
Find out more by calling us at +44 (0)20 3696 2920 or email Jack Tollervey at [email protected] 
Interested in a media partnership?
We'd love to hear from you and how we can support one another to connect with the industry. Contact [email protected]
MEET THE SPONSORS
Ceremorphic, Inc
Please visit our website for more information.
Biorelate
Please visit our website for more information.
XtalPi
Please visit our website for more information.
Drug Discovery World
Drug Discovery World is the multi-platform global voice for the drug discovery community. From research stage to clinical trials the brand covers the scientific and commercial process involved in getting a drug to market–research, target identification and validation, drug molecule identification, lead molecule optimisation, pre-clinical research, clinical trial authorisation and application, and clinical trials phase I and II. DDW readers learn how to turn science into business.
DDW is available as a quarterly printed publication, online and as a free-to-download app containing trusted content as well as premium hand-picked intelligence for anyone involved in drug discovery and development. Readers can also sign up for our free weekly e-newsletter.
From bench through to boardroom DDW offers commercial insight for researchers, scientists and decision-makers involved in drug discovery and development. We cover the latest news and events in the global pharmaceutical, biopharmaceutical and biotech sectors, as well as the technology and processes to help create vaccines, therapeutics and drugs.
pharmaphorum
pharmaphorum is a content and communications company offering a unique hybrid of publisher and agency working in pharma and healthcare.
pharmaphorum.com is our own independent flagship publication. It serves over 3 million unique users annually and its news and information is widely recognised as a leading source of thought leadership and strategic content for pharmaceutical professionals all over the world.
Our innovative digital magazine Deep Dive provides cutting edge insight on pharma industry trends to an audience of 100K per issue.
The Scientist
The Scientist is the magazine for life science professionals dedicated to covering a wide range of topics central to the study of cell and molecular biology, genetics, and other life-science fields.
About Kisaco Research
Kisaco Research produces, designs and hosts B2B industry conferences, exhibitions and communities – focused on a specialized selection of topic areas.
Meet industry peers that will help build a career-changing network for life.
Learn from the mistakes of your peers as much as their successes—ambitious industry stalwarts who are happy to share not just what has made them successful so far but also their plans for future proofing their companies.
Note down the inspired insight that will form the foundation for future strategies and roadmaps, both at our events and through our online communities.
Invest both in your company growth and your own personal development by signing up to one of our events and get started.